User:TrueZelda
One Ganondorf, 18 Quests, and Three Links. Wait a minute, What?
Hello, My Name is TrueZelda, and uhh... well i Love Zelda! So... yeah, I got lots of Video Game Related content here and of Course, Zelda Content!
Zelda Games i Own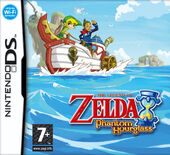 A Link to the Past & Four Swords

RECENTLY REQUESTED: THE MINISH CAP
Percentage in Games
Items
Items

Magical Boomerang

Bow and Arrows
Bomb

Book of Mudora
Magic Powder

Flute

Magic Hammer

Ether Medallion
Quake Medallion
Fire Rod
Ice Rod (More coming Sometime. i Can't say soon, but i can say sometime.)
Equipment

Master Sword lvl 2
Red Shield

Blue Mail

Pegasus Boots File:Titan'sMitt Sprite.png Titan's Mitt
Zora's Flippers

Moon Pearl
Number of Hearts
Other Wiki Accounts
SELECT A WIKI TO BE TAKEN TO MY USERPAGE OF THAT WIKI
Recent News
No News right now. Check back later!