Uncharted Island
Uncharted Island


An outline of the Uncharted Island
Main appearance(s)
Inhabitant(s)
Item(s)
The Uncharted Island is an island found in Phantom Hourglass.[1] It is located in the eastern side of the northwestern quadrant of the sea.
Features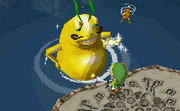 The island is located to the northeast of the Isle of Gust and is the only island without a pre-existing map.[2] Therefore, it is simply referred to as Uncharted Island. However, once charted, the island resembles a spouting whale.
There's a cave on the island that can only be accessed if Link first solves a riddle: "It steers with rudder, then makes spray! And third, it paddles, then sees a way!" Taking the shape of the island into account (that of a whale), Link has to hit four Gossip Stones in the order the riddle indicates. After that, Link can enter the cave in which dwells Cylos, the leader of the Golden Frogs.[3] He reveals that he is friends with Oshus and gives Link the Cyclone Slate to help Link save him.
Nomenclature
Names in Other Regions
Language
Name
Japanese
名も無き島 (Na mo naki Shima)[4]
French

CA

Ile Inconnue[5]
French

EU

Ile inconnue[6]
German
Namenlose Insel[7]
Italian
Isola Sconosciuta[8]
Spanish

EU

Isla ignota[9]
Spanish

LA

Isla Ignota[10]
This table was generated using translation pages.
To request an addition, please contact a staff member with a reference.
References