The Legend of Zelda (Valiant Comics)/Issue 2
The Legend of Zelda Issue 2

The comic's second issue
Author(s)

George Caragonne

Publisher(s)
Release date(s)

March 1990
The Legend of Zelda comics by Valiant Comics Issue #2 was originally released in March 1990.
Parts
To the First Power
The story begins with Link and Zelda near an Underworld entrance. As Zelda is getting ready to go inside Level 1 to practice fighting in Ganon's Underworld,[1] Link reminds her that if she needs help at one point, she can just blow the Magic Whistle and he will be there to assist her.[2] The princess heads in, confident in that nothing could go wrong with all of the lessons Link has taught her.[3] After Zelda vanishes into the Underworld, a Wizzrobe commands several of Ganon's minions to tie Link up so that he can teleport both of them into the final room of the labyrinth, revealing to Link that he filled the Eagle Labyrinth with the most dangerous of enemies so that Zelda may not stand a chance up against them.[4] Although Link confronts the Wizzrobe and tells him that capturing Zelda will do no good since he is the one that Ganon wants, the Wizzrobe confesses that he is not interested in following Ganon's orders anymore.[5] He elaborates that he has gathered many other minions who feel the same way, and as soon as he destroys Link and Zelda, all of Ganon's minions will join his renegade army, leaving Ganon to fail.[6]
Meanwhile, just as Zelda is telling herself that she will not call for Link's help at the first sign of danger, a Gohma appears behind her.[7] Surprised that a Gohma has appeared in such an early level,[8] the princess tries to fire a Sword Beam at the foe's eye, but she is pushed back by the force of the beam, blaming Link for not having told her about the "kick."[9] She is successful in defeating a group of incoming Patras, although she admits to herself that the current situation is too tough for her and decides to call Link by blowing the Magic Whistle.[10] When Link does not appear, Zelda realizes that something must have happened and tries to stay calm since she can still get out by remembering everything that the young hero taught her.[11] The princess then reaches for her magic pouch and gets out a bomb, recalling Link's advice in that she can find an exit by blowing up one of room's walls.[12] The opening reveals even more of Ganon's minions,[13] but still the princess manages to get into the next room since the foes are busy fighting amongst themselves.[14] Zelda then prepares another bomb since she hears someone approaching her,[15] which just turns out to be Miff.[16] Before Miff can say anything else, she warns Zelda about the Dodongo behind her, allowing Zelda to defeat it with her last bomb.[17] Miff realizes that the princess is hurt,[18] and as the fairy heals her wounds, the princess explains to her the recent strange events.[19] Astonished, Miff explains that Zelda cannot hope to fight through the Underworld's labyrinths using Link's way since she considers that the young hero only survives because of his "dumb luck and brute force."[20] Zelda realizes this and wishes she had a bow with her since she is unable to fire a sword beam correctly.[21]
Soon after, Miff and Zelda stumble into the treasure of the Eagle Labyrinth, a magic bow,[22] which allows the princess to defeat the Gohma with a single shot and make her way into the final chamber of the maze.[23] Inside, the Wizzrobe is delighted to see Zelda since he will now be able to defeat her himself[24], but the princess wastes no time and throws the sword to the chains that are tying Link, freeing him. The Wizzrobe shoots a magic beam at her, which Zelda dodges and quickly fires an arrow from her bow towards the foe, making it fall into a fire pit that sends the Wizzrobe back to Ganon.[25] The story ends with the Wizzrobe kneeling in front of Ganon while the Prince of Darkness praises him since he could make use of a "deceitful and treacherous" man like him.[26]
Trust Me
The story opens with Ganon visiting the small farming town of Saria, which is located in Western Hyrule.[27] When the villagers see Ganon, they are terrified, and begin to flee.[28] However, Ganon claims to have come in peace,[29] and picks up a small boy named Rus.[30] When Ganon asks the boy why he's afraid of him,[31] the boy replies that Ganon is the evil one.[32] Ganon responds that those are simply lies that were spread by Link, whom he refers to as a man-monster.[33][34] Ganon goes on to talk about how Link has attacked his servants and constantly tries to destroy him.[35] He tells the villagers that although the Wicked Princess Zelda[36] has done nothing to help their barren fields,[37] he will do so. He proceeds to magically plant a large fruit tree in the middle of a field, claiming that it is just a fraction of his power.[38] He tells the people that he would do more to help them, but because of Link's attacks on him, he must save up his magic.[39]
Link and Zelda are then seen using a map, attempting to find Ganon's location. Link wants to continue their pursuit of Ganon,[40] but Zelda insists that she stop to visit Saria, as it is her duty.[41] The two walk down to the bridge that leads into town. Zelda happily greets the River Man,[42] but Link butts in about his search for Ganon.[43] The River Man says that he suspected as much,[44] and that Link and Zelda are troublemakers.[45] Link and Zelda explore the town some more, but Link is impatient about it.[46] Zelda offers to help the People of Saria fix their drought problem, and suggests building a dam.[47] Unfortunately, after the dam is completed, the land is still infertile.[48] Zelda comes to the conclusion that the land must be cursed,[49] and assumes that it's Ganon's doing.[50]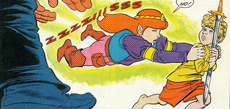 At that moment, Ganon shows up claiming that Link and Zelda are still spreading their lies.[51] Upon sight, Link immediately attacks Ganon, but his attack is blocked by Ganon's magic. Ganon claims that he cannot even visit his "friends" without being attacked,[52] but says that he still came to help, even with the great risk to himself.[53] He presents a bottle which contains the magical Water of Life,[54] and says that it will heal Saria's fields.[55] However, he refuses to give it over until Link is captured.[56] Link starts to defend himself from the descending villagers, but Zelda stops him.[57] As the villagers pin Link down, Ganon asks Rus to hand him Link's sword.[58] When Rus inquires to what Ganon intends to do,[59] Ganon demands that he turn over the sword.[60] Rus then tries to escape, but Ganon says that the boy will be punished for his disobedience.[61] Ganon then attempts to attack Rus using a magic spell, but Zelda dives in the way, and takes the blast instead.
When Link sees this happen, he is able to break away from the townspeople's grasp, and rushes forward to attack Ganon. He shoots a beam out of his sword towards Ganon, but misses. Ganon laughs at Link's attempt,[62] Link but Link was aiming for the dam. The dam then bursts, and the rushing water sweeps Ganon and his tree away. Link then comments that Ganon doesn't look like a very strong swimmer.[63] Shortly after, the villagers begin to repair the dam, and they thank Link and Zelda for their aid.[64]
Bonus 1
The bonus in issue #2 consists of a map of the North Palace. There are descriptions of some of the buildings, some of them making jokes.
Trivia
The original 1990 version of this issue featured the stories He Also Serves and Thief in the Night. He Also Serves was swapped to Issue 1 for the first run of the comics, while Thief in the Night was moved to Issue 4. Despite this, the cover still features Link and Bagu. [65]
References