July 25, 2020
Want to try your hand at these challenges? There's a couple of things you can do!
From writing, to research, to images, find your preferred way to contribute with our eleventh theme: Couples!
Songs in Super Smash Bros. for Nintendo 3DS/Wii U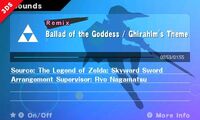 Similar to Super Smash Bros. Brawl, each Stage features various songs from their respective series. However, the Nintendo 3DS version of the game only features two per stage, similar to Super Smash Bros. Melee. The games also include returning songs from previous Super Smash Bros. games.
Track
Type
Stage(s)
Source
Contributor(s)
"Main Theme / Underworld Theme"

Remix

Skyloft
Spirit Train
The Legend of Zelda
Hideki Sakamoto (Arrangement Supervisor)
Nintendo (Composition)
noisycroak Co.,Ltd. (Arrangement)
"Main Theme Ver. 2 (The Legend of Zelda)"

Remix

Bridge of Eldin
The Legend of Zelda
Yuzo Koshiro (Arrangement Supervisor)
Nintendo (Composition)
Ancient-corp. (Arrangement)
"Main Theme (The Legend of Zelda)"

Remix

Temple
The Legend of Zelda
Takuto Kitsuta (Arrangement Supervisor)
Nintendo (Composition)
HAL Laboratory, Inc. (Arrangement)
"Title (The Legend of Zelda)"

Remix

Bridge of Eldin
The Legend of Zelda
Shogo Sakai (Arrangement Supervisor)
Nintendo (Composition)
HAL Laboratory, Inc. (Arrangement)
"Overworld Theme (The Legend of Zelda)"

Original

Hyrule Castle
The Legend of Zelda
—
"The Legend of Zelda Medley"

Remix

Hyrule Castle
Pirate Ship
The Legend of Zelda
Taku Inoue (Arrangement Supervisor)
Nintendo (Composition)
BANDAI NAMCO Studios Inc. (Arrangement)
"Hyrule Castle Stage"

Remix

Hyrule Castle
The Legend of Zelda
Hirokazu Ando (Arrangement Supervisor)
Nintendo (Composition)
HAL Laboratory, Inc. (Arrangement)
"Temple Theme"

Remix

Temple
The Adventure of Link
Shogo Sakai (Arrangement Supervisor)
Nintendo (Composition)
HAL Laboratory, Inc. (Arrangement)
"Great Temple / Temple"

Remix

Temple
The Adventure of Link
Shogo Sakai (Arrangement Supervisor)
Nintendo (Composition)
HAL Laboratory, Inc. (Arrangement)
"Tal Tal Heights"

Remix

Skyloft
Pirate Ship
Link's Awakening
Yusuke Takahama (Arrangement Supervisor)
Nintendo (Composition)
TARGET ENTERTAINMENT INC. (Arrangement)
"Overworld Theme (A Link to the Past)"

Original

Hyrule Castle
A Link to the Past
—
"Dark World / Dark World Dungeon"

Remix

Bridge of Eldin
Pirate Ship
A Link to the Past
Keiichi Okabe (Arrangement Supervisor)
Nintendo (Composition)
MONACA (Arrangement)
"The Dark World"

Remix

Temple
A Link to the Past
Arata Iiyoshi (Arrangement Supervisor)
Nintendo (Composition)
GAME ARTS Co.,Ltd. (Arrangement)
"Hidden Mountain & Forest"

Remix

Bridge of Eldin
A Link to the Past
Shota Kageyama (Arrangement Supervisor)
Nintendo (Composition)
PROCYON STUDIO (Arrangement)
"Saria's Song / Middle Boss Battle"

Remix

Skyloft
Ocarina of Time
Nintendo (composition)
Michiru Yamane (Arrangement)
"Gerudo Valley"

Remix

Gerudo Valley
Skyloft
Pirate Ship
Ocarina of Time
Rio Hamamoto (Arrangement Supervisor)
Nintendo (Composition)
BANDAI NAMCO Studios Inc. (Arrangement)
"Gerudo Valley"

Original

Temple
Pirate Ship
Ocarina of Time
—
"Ocarina of Time Medley"

Remix

Gerudo Valley
Bridge of Eldin
Pirate Ship
Ocarina of Time
Michiko Naruke (Arrangement Supervisor)
Nintendo (Composition)
Naru2 Co.,Ltd. (Arrangement)
"Hyrule Field Theme"

Original

Hyrule Castle
Ocarina of Time
—
"Hyrule Field Theme"

Remix

Bridge of Eldin
Ocarina of Time
Yutaka Iraha (Arrangement Supervisor)
Nintendo (Composition)
GAME ARTS Co.,Ltd. (Arrangement)
"Song of Storms"

Remix

Temple
Pirate Ship
Ocarina of Time
Tsukasa Masuko (Arrangement Supervisor)
Nintendo (Composition)
M's Factory Inc. (Arrangement)
"Termina Field"

Original

Hyrule Castle
Pirate Ship
Majora's Mask
—
"The Great Sea / Menu Select"

Remix

Skyloft
Pirate Ship
The Wind Waker
Tetsuya Shibata (Arrangement Supervisor)
Nintendo (Composition)
Unique Note Co.,Ltd. (Arrangement)
"Dragon Roost Island"

Original

Temple
Pirate Ship
The Wind Waker
—
"Village of the Blue Maiden"

Original

Skyloft
Pirate Ship
Four Swords Adventures
—
"Main Theme (Twilight Princess)"

Original

Bridge of Eldin
Twilight Princess
—
"The Hidden Village"

Original

Bridge of Eldin
Twilight Princess
"Midna's Lament"

Original

Bridge of Eldin
Twilight Princess
—
"Full Steam Ahead (Spirit Tracks)"

Remix

Spirit Train
Temple
Spirit Tracks / The Legend of Zelda
Michiko Naruke (Arrangement Supervisor)
Nintendo (Composition)
Naru2 Co.,Ltd. (Arrangement)
"Ballad of the Goddess / Ghirahim's Theme"

Remix

Skyloft
Skyward Sword
Ryo Nagamatsu (Arrangement Supervisor)
Nintendo (Composition)
Nintendo (Arrangement)
"Ballad of the Goddess"

Original

Skyloft
Pirate Ship
Skyward Sword
—
"Lorule Main Theme"

Original

Skyloft
A Link Between Worlds
—
"Yuga Battle (Hyrule Castle)"

Original

Temple
A Link Between Worlds
—
"Hyrule Main Theme"

Original

Temple
A Link Between Worlds
—
See Also
Major Songs
Warping Songs
Other Songs
Instruments
Ocarina Songs
Harp Songs
Wind Waker Songs
Spirit Flute Songs