July 25, 2020
Want to try your hand at these challenges? There's a couple of things you can do!
From writing, to research, to images, find your preferred way to contribute with our eleventh theme: Couples!
Merchant's Oath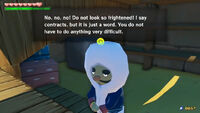 Merchant's Oaths are verbal contracts between two merchants, formed by trading one product for another.[1] Link is first introduced to the concept by Zunari, the proprietor of a humble stall on Windfall Island, who asks him to negotiate supply contracts on his behalf with Wandering Merchants.[2] Once Link trades an item with a merchant, forming such an oath,[3] the merchant will thereafter ship their products to Zunari's shop, increasing his product line.[4] He gives him a Town Flower to trade for another item, which begins the Island Trading Sequence.[5]
Whenever Link encounters a Traveling Merchant while on the Great Sea, he can form a Merchant's Oath with him and receive a variety of items, depending on what he has to trade.[6] The Traveling Merchants honor their oaths by sending their items to Zunari's shop via Postman.[7][8]
Gallery
References