July 25, 2020
Want to try your hand at these challenges? There's a couple of things you can do!
From writing, to research, to images, find your preferred way to contribute with our eleventh theme: Couples!
Hibiscus
Hibiscus

Main appearance(s)
Location(s)
Use(s)
The Hibiscus is an item in Link's Awakening.[1]
Locations and Uses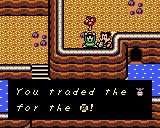 The Hibiscus is the eighth item in the Trading Quest in Link's Awakening. It is obtained by bringing the Pineapple to the famished Papahl in Tal Tal Mountain Range.[1] After eating the pineapple,[2] Papahl will give Link the Hibiscus.[3] If Link takes the Hibiscus to Christine in Animal Village, she will give Link a Letter that he must give to Mr. Write.[1][4]
Nomenclature
Names in Other Regions
Language
Name
Meaning
Japanese
ハイビスカス (Haibisukasu)
Hibiscus
French

EU

Hibiscus
German
Hibiskus
Spanish

EU

Hibisco
References
↑ "This is so delicious! I'm going to eat the right now! Bon Appetit!" — Papahl (Link's Awakening DX)
↑ "AH! This isn't meant to be a reward... Here, take this ! It's a hibiscus!" — Papahl (Link's Awakening DX)
↑ "I would like you to take this letter to a Mr. Write who lives on the border of the Mysterious Forest, please!" — Christine (Link's Awakening DX)