July 25, 2020
Want to try your hand at these challenges? There's a couple of things you can do!
From writing, to research, to images, find your preferred way to contribute with our eleventh theme: Couples!
As part of the Unified Community Platform project, this wiki and 38 others will be migrated to the new platform, with migrations beginning September 23rd at 7am CDT. Minimal changes are expected as part of this migration. Read more here.
Akira Himekawa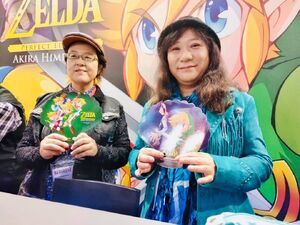 Akira Himekawa are the creators of one of The Legend of Zelda manga series.
Biography
Akira Himekawa is the collaboration of two women, A. Honda and S. Nagano. Their The Legend of Zelda manga series started with Ocarina of Time, released in 1999 in Japan. They have released manga for almost every main entry in the series. Their manga series include alternative storylines to the games, as well as new ones. These include a background story for Majora's Mask and the creation of new characters and races, such as the Watarara. A manga box set was released on October 25, 2011 including all their manga released up to Phantom Hourglass.
Akira Himekawa's manga series has also been translated to English, German, French, Spanish, Italian, and Portuguese.
The Legend of Zelda Manga
Gallery
Christmas artwork depicting Link and some Kokiri

New Year sketch depicting Link, some Kokiri, and the Deku Tree
External Links